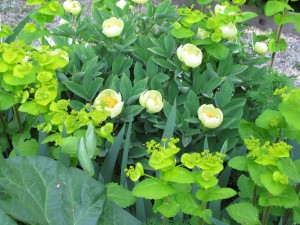 The first of the peonies–flowers we usually associate with early June–are in full flower in our vegetable garden. This ravishing yellow is affectionately called "Molly the Witch" because her official name is impossible to pronounce–Paeonia mlokosewitschii. The flowers are  small and single, a buttery pale yellow with a boss of golden stamens. The leaves are a fresh blue-green and make a beautiful frame. By happenstance, Molly is surrounded by a curious flower called Smyrnium perfoliatum, an acid yellow that compliments the softer-colored peony. We were given seed of smyrnium after admiring the flower one spring in Eugene, Oregon, and tossed those seeds into this nursery bed by the chicken house, then promptly forgot about them. Two years later, odd-looking seedlings cropped up which we first thought were some new weed, but fortunately decided not to pull because we weren't sure. The following year they flowered and we remembered what they were.
The earliest peony in our garden, and a favorite of mine, is called 'Early Windflower'. It is a cross between  two species, P. emodi and P. veitchii, made in the early twentieth century by A. P. Saunders in upstate New York. It is a lovely thing with nodding small single white flowers above deeply-cut, almost lacy, light green foliage. I like to pick it for small vases, mixed with perennial sweet peas.
The peonies seem to thrive in our vegetable garden–they are much lustier here than they are in our garden beds. Reasons–full sun, lots of room, and aged manure seeping out from the hen house and chicken runs that they back up to.