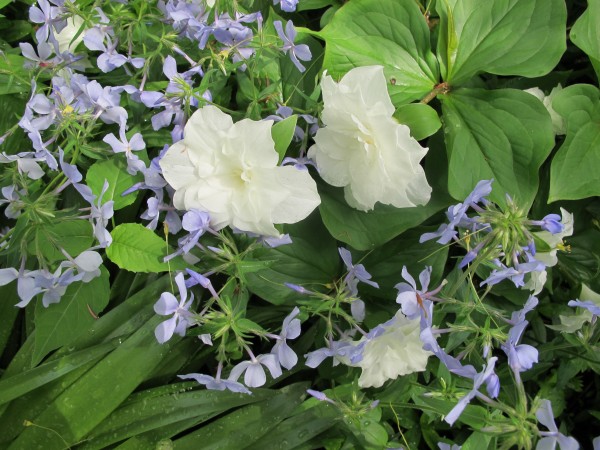 I think I can say that our small spit of woodland is at its peak now, although perhaps I should say its final peak. For snowdrops and aconites started the floor show early on in March, and were followed by all the beautiful hellebores and a few treasured hepaticas. Then, in April, daffodils opened with troutlilies, bloodroot, and the Jeffersonias, and, by early May, all sorts of anemones carpeted the borders. These have faded now, and even most of the epimediums are no longer blooming, although their foliage creates handsome groundcovers for the rest of the summer and fall. But I love this moment in the middle of May when the woodland phlox are in full flower, Phlox divaricata and P. stolonifera, painting great swathes of the woodland with lavender blue. Alot of unfurling is going on around them–yellow and white-flowering disporums, Solomon's seal and Smilacina, the false Solomon's seal, Jack-in-the-pulpits, and toadlilies (Tricyrtis). Trilliums are at their prime, elgegantly flowering in white, plum, and yellow above the pinwheels of blue, and foamflower, Tiarella cordata, compliments the phlox with patches of white bottle brush blooms.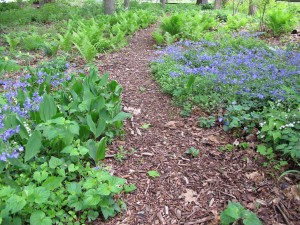 Here and there, at the edge of the paths, and also where the woods meet our meadow, our native columbine is flowering, Aquilegia canadense. I have a weakness for this plant, for its diminutive flowers, its bright red and yellow, its jauntiness. It blooms where it wants, appearing often in unexpected places, but I think it likes rocks or gravel mixed with the leafy soil and filtered shade of high trees. I have picked a few stems today to mix in a posy with lilies-of-the-valley, just coming into flower, and the creamy-white violet, Viola striata, which blooms just as the other violets are fading, and makes lovely clumps along one of our wooded paths.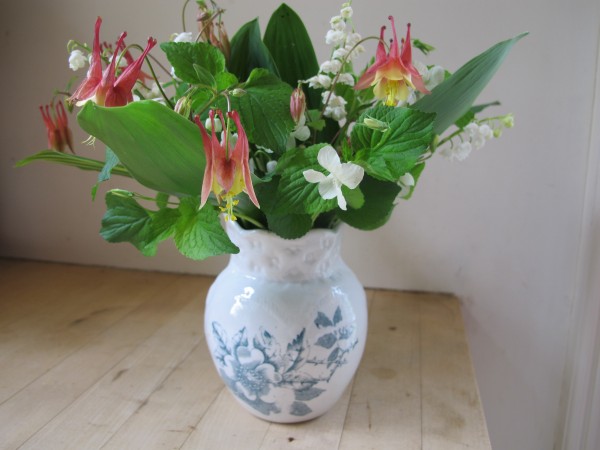 Soon most of the flowering on our woodland floor will be over, at least until fall, and this will become for the summer a quiet ferny green place.