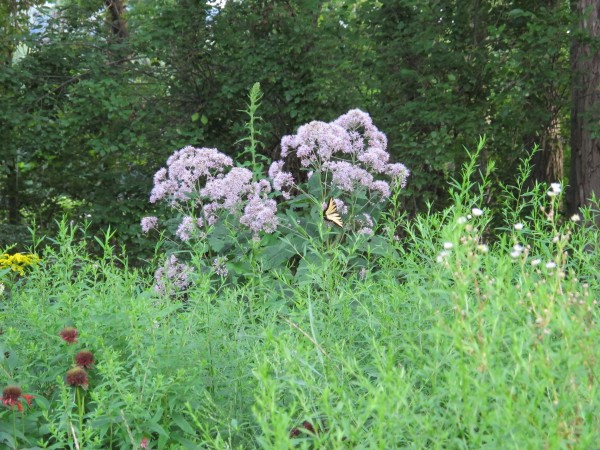 Russell Page, in his classic book, The Education of a Gardener, says don't spot the same plant in multiple areas of the garden. And yet, this frequently occurs at Duck Hill, by accident more than intent, and I am quite often delighted with the result. Foxgloves, Johnny-jump-ups, verbascums, feverfew–they're all over the place. So, thank goodness is Joe-Pye weed. Our native Eupatorium fistulosum, is invaluable as a bridge between summer and fall, saving the garden from dullness, blooming for weeks on towering stems, bold, sculptural pillows of softest red-violet.
Joe-Pye brings much-needed drama to the late borders in our main garden with its panicled heads of pale mauve rising six and seven feet high, peering above the privet hedge and mingling nicely with white summer phlox ( the stellar 'David'), arching grasses, the plum bottlebrush blooms of burnets, and the stolid, dark green globes of boxwoods. Meanwhile, a white-flowering sort I don't remember planting consorts with Helianthus 'Lemon Queen' at the edges of the yellow garden.
And this summer, out of the blue, several clumps of Joe-Pye have appeared in low, half-shaded spots of our small meadow. Or I should say meadow-in-progress. We are still battling with weeds (ragweed, dock, alfalfa, clover, ailianthus seedlings…) and waiting, hoping the native grasses will one day take hold. But a succession of "forbs," or native flowers, fills us with pleasure. Joe-Pye weed holds the stage here now with the goldenrods and coneflowers, and Rudbeckia triloba, the most winsome of the rudbeckia tribe, with profusions of tiny brown-eyed Susan flowers. But I will write about the rudbeckias another day. As for the eupatoriums–they are always dressed with a butterfly or two, as though their own handsomeness was not enough.