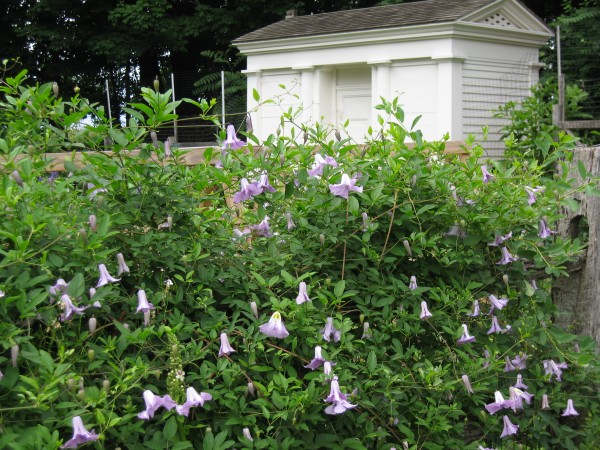 One of the delights of June and July at Duck Hill is the flowering of clematis vines as they scramble through roses and weave up and over our wire-faced paddock fences that enclose the meadow and pool area and the vegetable garden. We grow mostly the small-flowered sorts, the viticellas and texensis varieties and a few of the curious species, for they fit well with our rather wild and unpretentious garden. One of the deservedly better-known viticella hybrids, 'Betty Corning,' is seen in the picture above, covering a part of the vegetable garden fence with its masses of pale lilac bells. It is a "doer," never failing to bloom in abundance.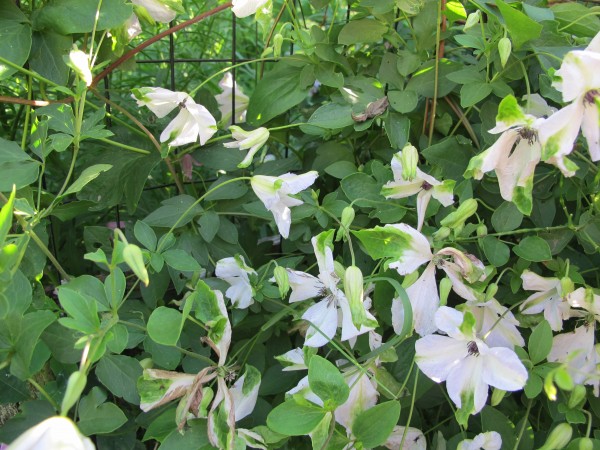 Clematis 'Alba Luxurians' is a curious viticella cultivar that I am fond of. It has pinwheels of nodding white flowers tipped and notched green at the ends of the petals, their white often tinged with the palest violet blue. It has dark, purple-black stamens.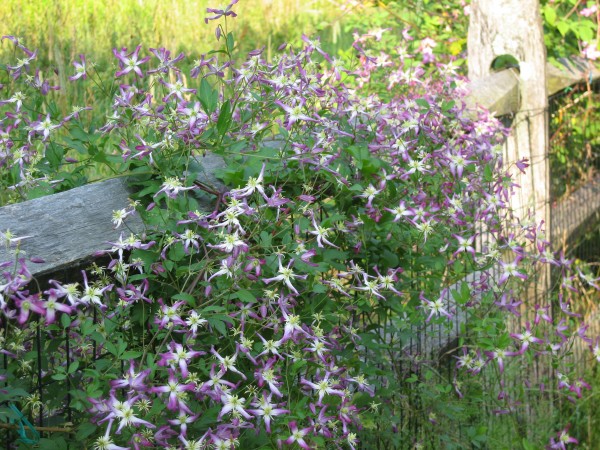 Clematis triternata 'Rubromarginata' is the mouthful of a name for the lovely little violet and white species that has been flowering delicately for weeks now. It is one of my favorites.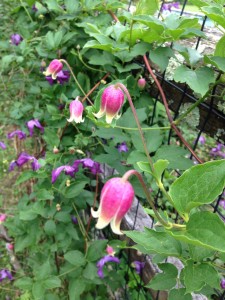 Another odd little species at Duck Hill, Clematis viorna, drapes its reddish-purple bells along the meadow fence. Also called leather-flower, it is native to our southeastern states, found on stream banks under trees. The little flared bells are edged in yellow.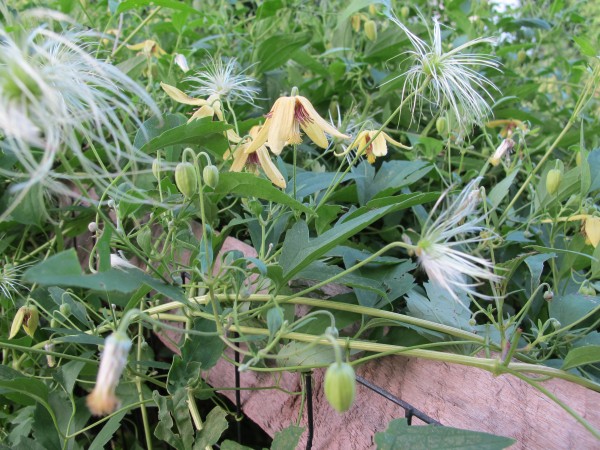 Soon the cultivars of Clematis tangutica will be blooming, and, as the viticellas and earlier species succomb to our summer heat, the golden clematis will carry us through the rest of summer. Even after they finish blooming, the swirled, silky seed heads are magical in the garden and wonderful to cut and mix in small bouquets.
As for pruning: we cut all of the clematis vines mentioned above down to about a foot from the ground in spring.  Then we dress the base of the plants with compost and ashes from the fireplace (they like that touch of lime) and keep them well weeded and watered. Our reward is this charming yearly display.