At holiday time, I am sorry we don't have more conifers at Duck Hill. Not because I want to see them in the garden particularly (most conifers seem to me out of place here), but because I wish I had them to pick for bouquets and wreaths and mantels. I make do with what we have, namely hemlock from our boundary hedge and yew from a conveniently overgrown specimen that was here when I came 32 years ago. Thankfully, we have broadleaf evergreens that offer branches and sprigs–boxwood, pieris, leucothoe, inkberry, rhododendron, and skimmia. They are the saving grace now, offering welcome patches of green in the gray and white winter landscape. And here and there, we have dashes of holiday red–berries, fruit, and branches, to cut for indoors or just savor their brilliance as we walk in the garden.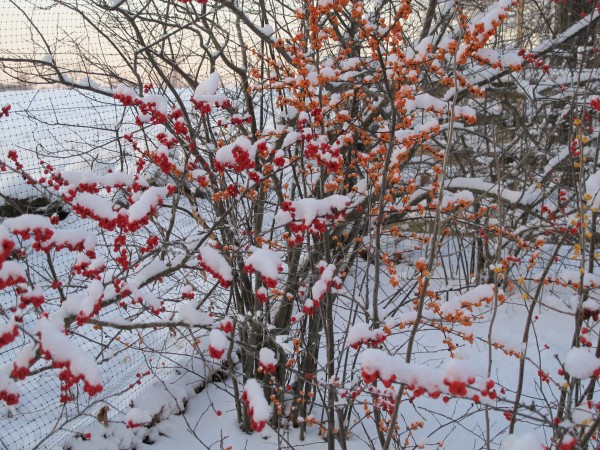 The winterberries, varieties of Ilex verticillata, have been especially floriferous this year, which is surprising when you remember how dry our early fall was, and knowing that their natural preference is for damp ground. I catch glimpses of their scarlet-studded branches in low-lying woods as I drive the country roads around here. But they seem to survive well enough in drier ground, as is the case here. Usually a flock of birds, often robins, has stripped our bushes by now, but this year they are still vivid with orange and red berries.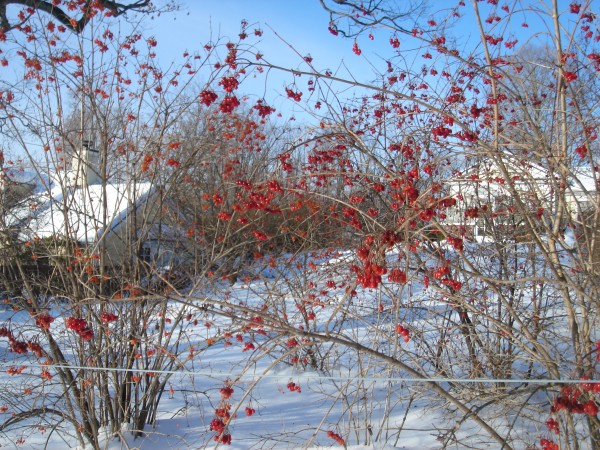 Our American cranberrybush, Viburnum trilobum, drips with lustrous fruit until sometime in dead winter when birds polish them off. Our bushes, planted as a screen by the road, are five to six feet in height, arching in habit, and decorated with these scarlet drupes starting in late summer. I love to cut sprigs to add to small bouquets of roses or dahlias.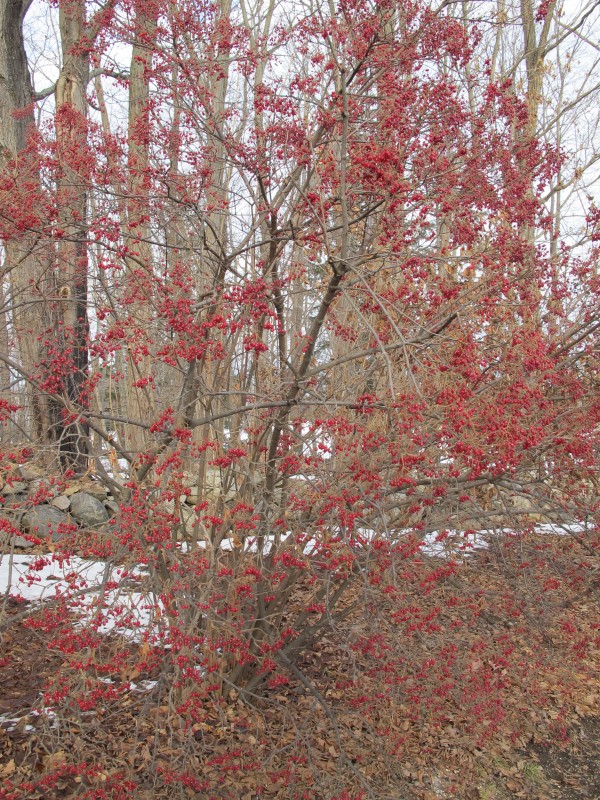 The showiest of viburnums this time of year is V. dilatatum. This is a big shrub, to about seven or eight feet, rounded in habit, with masses of tiny deep red berries from early fall through much of winter. This is a stellar viburnum where you can use a big shrub, with handsome heart-shaped leaves, showy discs of white flowers, and then this painterly haze of red. I pick branches of the berries to mix with hydrangeas for bouquets in the fall and now to compliment those broadleaf evergreens.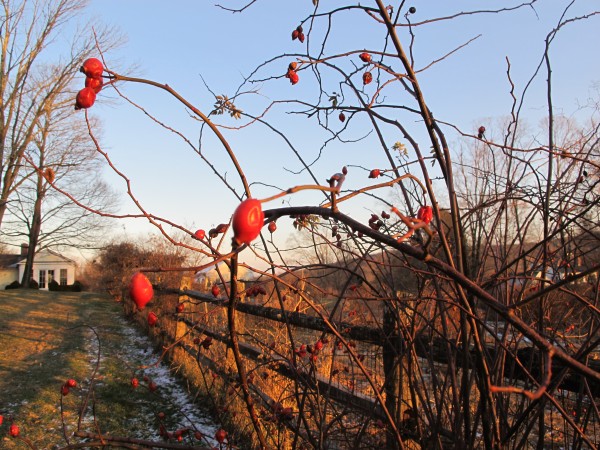 Most of the hips on our roses have been gobbled up by now, or have shrivelled and turned brown. But a few still hold their brilliance–are they not as palatable for some reason?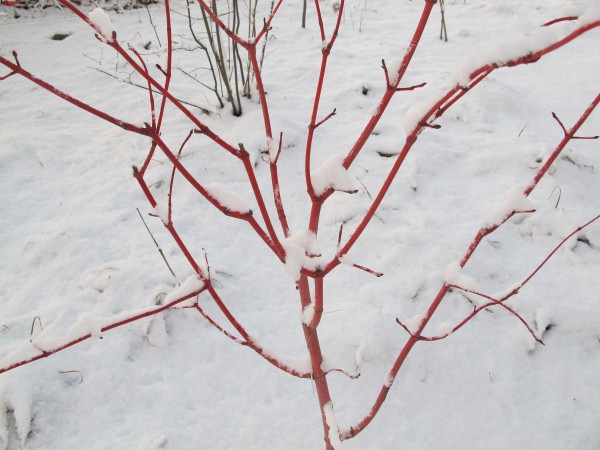 I love the color of the shrub dogwoods in the winter garden–yellow-twigged, flaming orange, dark crimson. One small, shrubby tree stands out along our woodland path for the same reason. It is a maple in the moosewood family, called Acer x conspicuum 'Phoenix,' with rather spectacular white-striped, coral-red winter twigs. It isn't big enough to dream of cutting. But I puposely take the path where it stands back to the house each afternoon to see it shimmer.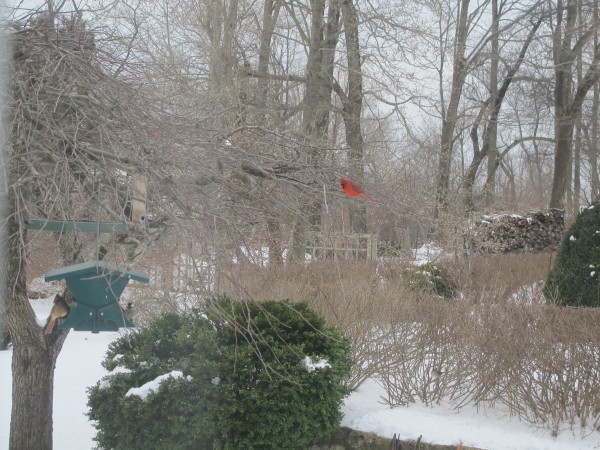 Happy New Year from Duck Hill.