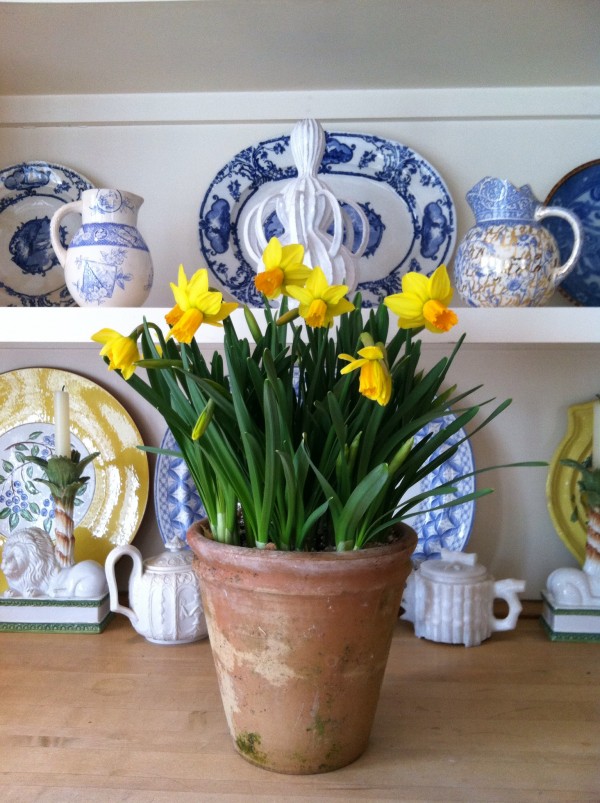 It is the first day of spring and you wouldn't know it outside. The snowdrops and winter aconites, which I was savoring in full flower just a few days ago, are once again covered with snow.  But, thanks to the bounty from our coldframe, it is spring indoors. Every October we pot up bulbs–daffodils, grape hyacinths, scilla, crocuses, trout lilies, frittilaries–sinking them in our best clay pots in a mixture of loam and compost. We then water them well, label them with tall wooden labels, and bury them under 8″ of shavings in our coldframe. There they go through their required period of dormancy for about 10 to 12 weeks. By the beginning of February, we are pulling them out, a few pots at a time, transfering them to the greenhouse where, with water and sunlight, they push up leaves and buds. When they are just beginning to flower, we bring them down to the house.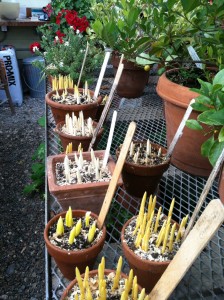 Right now, the early cyclamineus daffodil 'Jetfire,' with bright yellow flared-back perianth and orange trumpets, is flowering in the kitchen. I especially like forcing the very early-blooming narcissus, and also the miniatures, sweet ones like white 'Toto,' soft yellow 'Gypsy Queen,' and 'Rip van Winkle,' which looks rather like a dandelion.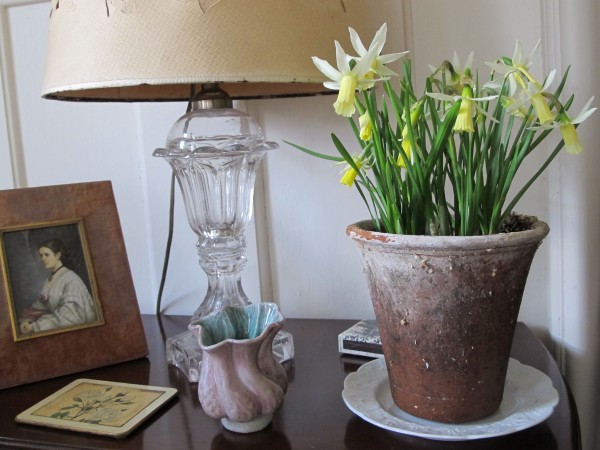 We have a small pot of N. 'Snipe' flowering in the living room–I first saw this sweetheart at the San Francisco flower show with its tiny flared back petals and long narrow soft yellow trumpets. For some reason, it is not easy to find in the catalogs and is expensive to buy, but I always try to have at least one pot of it to force in the winter.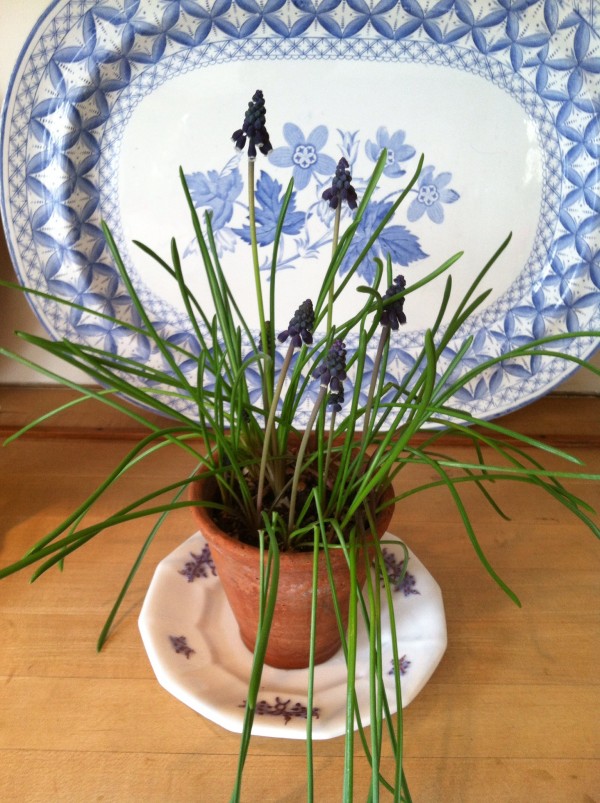 I know you can buy grape hyacinths in the supermarket, but it's fun to force some of the more unusual sorts. This year we had a pot of Muscari neglectum with stalks of inky-blue bells dipped in white, and we forced an especially nice white sort called M. aucheri 'White Magic.'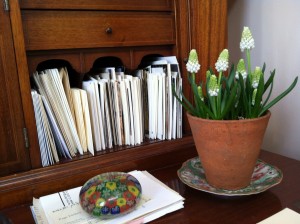 I am not sure why more gardeners don't have coldframes. They are easy to build–ours are made from inexpensive wood and clear plastic, three boxes that are 3′ deep by 3′ wide, their backs slightly higher than their fronts, with hinged tops, sitting on gravel, facing south. You can start all sorts of perennials from seed in March or November in the protection of the frames, you can grow lettuces there before it is warm enough to do so outside, and you can have the prettiest pots of flowers to cheer up your rooms inside no matter how much snow is on the ground. When you pull the pots out of the coldframe, you don't need a greenhouse to force the bulbs into flower; any sunny cool window will do the trick. This week, I am pulling a small pot of white erythroniums and larger pots of the lovely late daffodils 'Segovia' and 'Hawera' to have in bloom before the daffodils are flowering outside. Happy Spring.