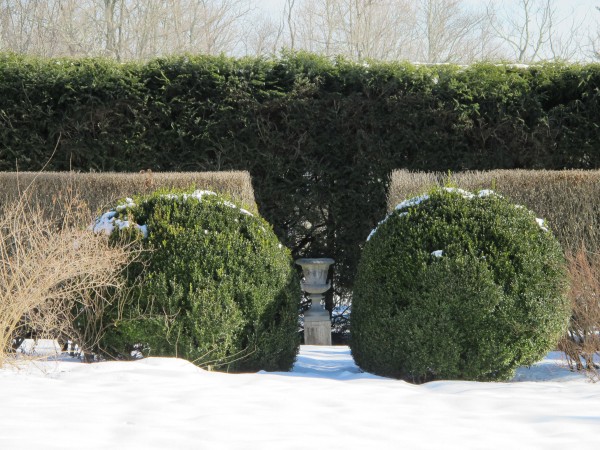 The bitter cold is here, thankfully with a cover of snow, and our eyes drink in any strokes of green–in the case above, hemlock and box. Hemlock is our only conifer at Duck Hill. Mostly over the years, we've planted broadleaf evergreens for that color we crave in winter. Boxwood is a leitmotif of the garden, but we also enjoy mountain laurel, andromeda (Pieris japonica), which seems to thrive here, a few rhododendron, inkberry (Ilex glabra) and our native I. opaca, as well as leucothoe and skimmia. Yes, the leaves of some of these broadleaf evergreens curl in distaste when the temperature plunges to the single digits (rhodos are the most miserable), but neverthless they seem more at home in our predominantly deciduous landscape than non-native conifers. In December and January, I love to cut branches and sprigs of them for vases indoors.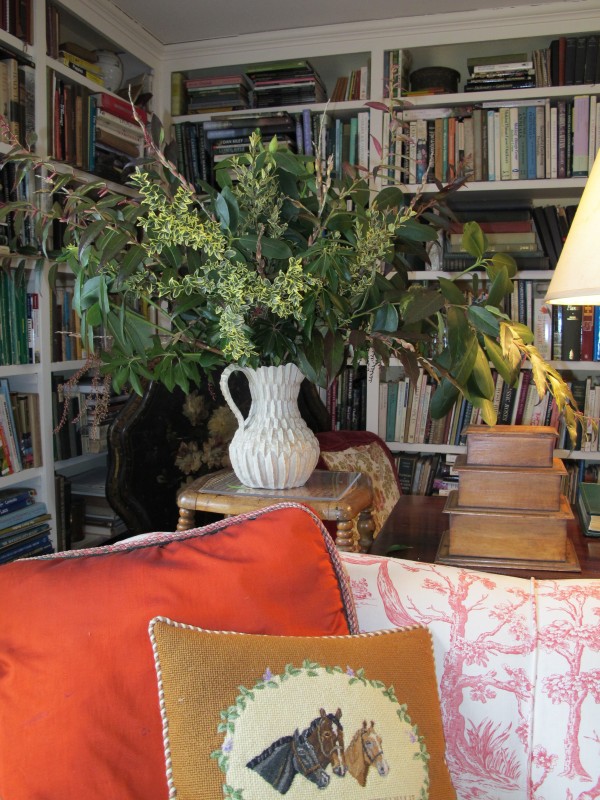 Leucothoe is one of my favorites for big winter bouquets. It is a graceful, fountaining shrub, no more than 3′ or 4′ in height, growing happily in the dryish shade of our woodland. Its elegant arching branches last for weeks inside in water. We have the ordinary sort, L. fontanesiana, which has lustrous, burnished leaves in winter with pink stems and buds, and a variegated sort called 'Girard's Rainbow,' streaked with cream and red. In time the bushes colonize to make handsome clumps. To spread the wealth around, you need only to dig up some rooted outer bits and transplant them in good humusy soil.
An even smaller, less common evergreen that I cherish in winter is Skimmia japonica. We grow the male form of this charming small shrub, which has rosettes of shiny green ovate leaves topped with clusters of dusty red buds, ideal to cut for small vases. I even add sprigs to our Christmas wreaths to nice effect. The female form of skimmia is decked in showy red berries, but I wonder if it is more tender or fussy than the male. We have planted it twice, and twice it has died over winter. We will try a third and last time.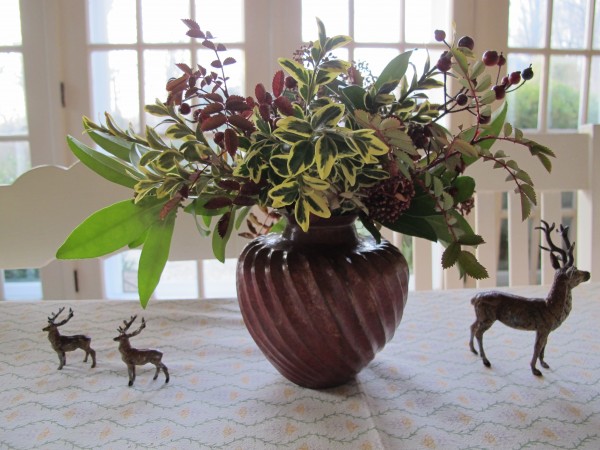 Variegated boxwood, the sort called "Elegantissima,' I find invaluable for winter arrangements. The cream-dipped leaves add light and sparkle to all the mixed dark greens, just as they do in a garden border. And cutting out branches of box from the innards of the bushes is a good practice in winter, allowing light and air to penetrate the shrubs, which is essential in our on-going battle against fungal disease.