The first of the early roses are in flower at Duck Hill, taking over from the lilacs and tulips in what we think of as the May lull, before the big splash of peonies and the voluptuous rose blooms of June. The sweetness of these first rose flowerings is beguiling–in soft yellow, white, and pale pink, single and double, rarely more than three inches in diameter, inevitably richly scented. Their foliage tends to be fernlike and not affected by the disease and bugs that summer brings. The Father Hugo rose (R. hugonis) and its hybrid, Rosa x cantabrigiensis, seen here with some old-fashioned Oriental poppies, are peppered with palest yellow flowers along their arching branches.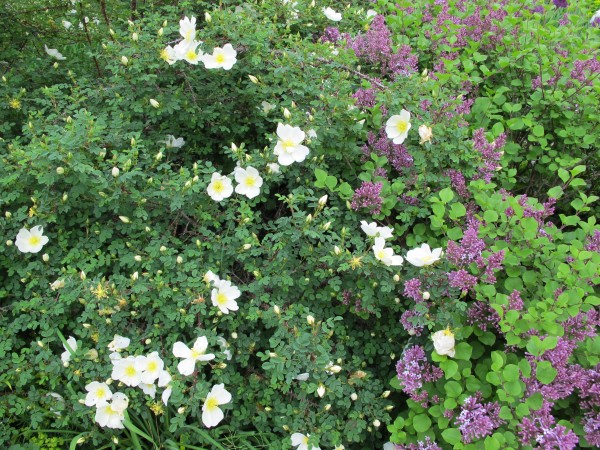 The Scotch burnets are in full bloom, varieties of R. pimpinellifolia, small graceful bushes in the three-to-five-foot range. The species are white–single-flowered, as is this one next to our dwarf Korean lilace hedge, or double-flowered.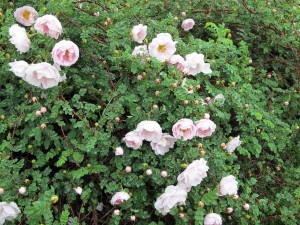 But there are lovely pink sorts such as the one by our greenhouse, and even yellow hybrids. Harrison's Yellow is one, an old dooryard rose, with rich butter-yellow flowers that are loosely double. Bosco and I once came upon a whole grove of this charming rose flowering near an ancient oak tree in a Pennsylvainia field, all that was left of an old farmstead.